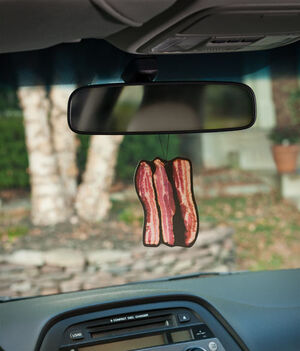 The Bacon Scented Air Freshener - it's an air freshener that smells like bacon. What more do you need to know?
You know, for that new meat smell.
Bacon air!
Everyone talks about that "new car smell." But sometimes new cars smell kinda stinky. Now, that "new bacon smell" - freshly cooked and sizzling - now that's a smell we love every time it hits our olfactory receptors. It's like if you built a castle out of pure diamond and floated it up on a cloud and you could only get there via jetpack that fired out rainbows. Yeah, the smell of freshly cooked bacon is like that. And now you can make any space smell like meat with the Bacon Scented Air Freshener.
Look - it even kinda looks like bacon. And it smells like bacon. And you can hang it anywhere you want to smell bacon - just use the hanging string. Each Bacon Scented Air Freshener will make you remember the times you've munched bacon and how happy you were.
Community content is available under
CC-BY-SA
unless otherwise noted.