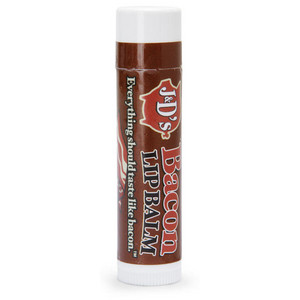 Yes...
...Lip balm that is bacon flavored!
"Bacon flavored kisses"
"You CLAIM to like bacon. You say, "ThinkGeek, I like bacon." And we say to you, "O RLY? How much bacon did you have yesterday?" And you reply, "Ha! Easy! I had bacon with my pancakes at breakfast, bacon on my cheeseburger at lunch, and dinner was bacon-wrapped steak!" We snicker and lick our monkey lips. 'Mmmm, bacon'. We lick our lips again. 'Mmm, bacon'. Then we laugh at you since you limit your bacon intake to meals only while we have the awesomesauce that is Bacon Lip Balm to have baconny goodness all day long."
"BACON!"
"Seriously, this stuff tastes like the king of meats, but in smooth and moisturizing lip balm form. Fix chapped lips AND taste like the world's most scrumptious pork product all day? We can't think of a better combination. Share your love of the magical animal that produces pork, ham, sausage and bacon by giving your loved ones bacon-flavored kisses!"
""WARNING: Neither ThinkGeek nor Bacon Wiki is responsible for tongue kisses you receive from dogs as a result of using this product."
Disclaimer
Edit
No actual pigs were harmed in the making of this lip balm
Community content is available under
CC-BY-SA
unless otherwise noted.