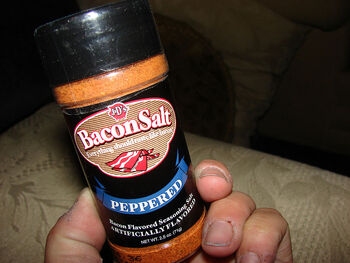 Made with Sea Salt, it's available in multiple flavors at: JD Foods
Flavors of Bacon Salt
Edit
Original
-like a straight
bacon
punch in the mouth. Best on Eggs, Green Vegetables, Salads, Sandwiches and more.

Hickory
- a little more smokey than Original, but not in that fake liquid smokey type of way. Potatoes, Steaks, Tomato Soups, Salmon, Cream Cheese Dips and more.

Peppered
- has a bit of a kick, but it's not going to knock you out. Put it on Burgers, on your shellfish, in your Bloody Mary's, or in your clam chowder.
Natural
- with no artificial flavors, your potatoes, your pastas and your eggs never tasted so great.
Applewood
- ever bite into a slice of smoked Applewood bacon? You'll have a hard time telling the difference.

Maple
- savory and sweet, goes great on chicken and beans. Or your arm.

Cheddar
- on popcorn, this is absolutely incredible.

Jalapeño
- like even more heat? You'll love this. Hot, hot, hot, and bacon, bacon, bacon.

Mesquite
- your barbecue will never be the same after you taste this on any grilled meat.