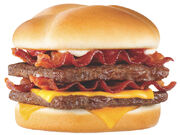 The Baconator is a sandwich sold by the fast food chain Wendy's.
Also available in a breakfast version, in multiple sizes, substituting sausage patties for the beef patties.
History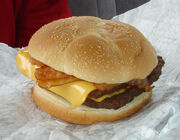 When it was introduced, the hamburger consisted of two 4oz. beef patties, two slices of American cheese, six strips of bacon, mayonnaise, and ketchup on a bun. The sandwich was layered so that there were three strips of bacon on top of each patty.
In 2009 Wendy's began offering three different varieties of the Baconator- the Baconator Single (one patty, 3 strips of bacon), the Baconator Double (the same as the original), and the Baconator Triple (three patties and nine strips of bacon).
None of the "standard" Baconators carries lettuce, tomato, onions or pickles, though these, as well as mustard, can be included by special order.
At various times Wendy's has offered special limited-time Baconators. The Spicy Baconator added jalapeño peppers and substituted pepper jack cheese and chipotle ranch sauce. The Cheddar Baconator substituted aged cheddar and steakhouse sauce.
In 2012, Wendy's introduced the Son of Baconator, featuring two smaller (2.25 oz) beef patties, three strips of bacon and two slices of cheese. The offering is more economical than the Baconator Single, while actually having more beef.
Eventually, the Baconator Triple was removed from the menu, but it can still be special-ordered.