Obi-Wan Finale - The Loop
Play Sound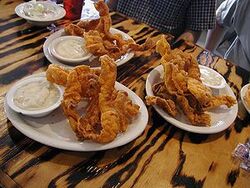 Chicken-fried bacon is a bacon dish developed and perfected in Texas, which consists of raw bacon dipped in batter, then deep-fried. It is frequently served with cream gravy.
Not to be confused with southern-fried bacon, which is served with brown gravy or chicken gravy.[1]
History
Chicken-fried bacon is the brainchild of Frank Sodolak [2], an inn owner from Texas. He invented the heavy delicacy in the early 1990s, and today, chicken fried bacon has gained popularity after being featured in Youtube videos and a book of Texas curiosities. Given its widespread popularity, chicken fried bacon could become a prominent part of Bacon History.
Versions
Frank Sodolak's original chicken fried bacon plate consists of six strips of chicken-fried bacon served with a small bowl of cream gravy. Since the dish has gained notoriety, other chefs are preparing chicken fried bacon. The Risque cafe in Chicago serves its own version, which is heavily peppered and deep fried in vegetable oil, served with a side of cream gravy. They sell it for $6.
Health
Because chicken fried bacon is so heavily fried and contains so much butter and oil, it is not a healthy food. Health expert Sally Squires, of the Washington Post, admits the culinary appeal of chicken fried bacon, but warns against eating it too often, given its artery-clogging tendencies.
Recipe
From Food Network
Ingredients
Fried Bacon
1 lb thick sliced bacon, cut in half
1 egg
1/2 cup milk (or cream or half & half)
1/2 cup flour
spices (optional)
oil (for frying)
Cream Gravy
3 tablespoons drippings or 3 tablespoons butter
3 tablespoons flour
2 cups milk
2 tablespoons heavy cream (whipping)
salt and pepper, heavy on the pepper
Directions
Heat oil in a frying pan over med-high heat.
Whisk egg and milk together in a bowl.
Place flour in another bowl - season it if you'd like (garlic, pepper, salt, lemon, cajun, etc.).
Double dip - first in the egg mixture, then into the flour and repeat.
Fry in oil until golden brown.
Serve with cream gravy for dipping; also good served with steak.
To make cream gravy:
Put drippings or butter in a sauce pan over med-high heat.
Whisk in the flour until well blended.
Cook over medium heat for 2 to 3 minutes, until bubbly.
Remove from heat and gradually add milk whisking constantly.
Return to heat & whisk until the gravy thickens
Whisk in the cream, salt & pepper.
Gallery
Footnotes